The weather in Colorado Springs is always unpredictable. Colorado has it all: hail, rain, snow, sun—sometimes all four in the same day. If we must gamble on what clothes to wear every day, let's not gamble on how to protect our home. Some of the best siding options for homes in Colorado Springs are Stucco and Vinyl. Stucco is a cement-based plaster that is mixed while Vinyl is a plastic-type siding for your home. While both are proper sidings to add to your home, there may be a few pieces to each that work better for you.
As Colorado Springs' original window and siding company, we are experts in choosing the best siding for Colorado Springs homes. We can help you weigh the benefits between stucco and vinyl siding options, and ultimately help you choose the best exterior finish for your home based upon your unique needs. We've prepared a compare and contrast guide for stucco and vinyl. For more specific information, contact us at Colorado Window and Door Company.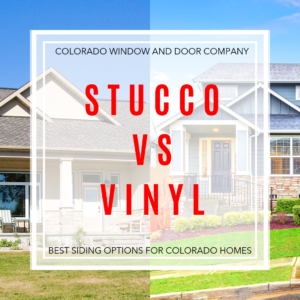 Stucco: Pros and Cons
Stucco Outdoor Durability
Stucco is water resistant and will not create, but will protect, from fungus or mold that may grow on your home due to those rainy Colorado days. It can also protect against outside elements that may harm Colorado Springs homes like hailstorms. Stucco is also fire resistant, so you do not have to worry about hot days and strong winds ruining the exterior of your home. It is also a great option for improving your home's energy efficiency. In Colorado Springs, it is important to have a durable home siding that will keep damage away.
Stucco Maintenance
Another benefit of stucco is that it is very easy to maintain. After installing stucco, it does not need much attention. When you buy stucco, you have the option to add pigment into the mixture which takes away the need to paint the siding regularly, taking away the unnecessary time and money that would otherwise go in. Stucco does not damage easily, thus reducing the need to repair, replace, and repaint, lowering yearly costs. Stucco is also energy efficient and will help save money when it comes to your cooling and heat within the home.
Since stucco is one of the less expensive siding options to install, it is important to have a professional do it for you. At the Colorado Window and Door Company, we would be more than willing to let one of our experts put your siding up for you. We will take the proper care and attention to make sure that you will not find any issues with your new siding, and that it will stay up and require no new maintenance for years to come.
Vinyl: Pros and Cons
Vinyl Outdoor Durability
Vinyl, much like stucco, is a good siding for any home with an equally appealing appearance. It is a plastic siding that is used for weatherproofing for Colorado Springs homes. It is extremely durable and can last through many variations of weather and temperatures to keep your home protected. Vinyl is a perfect solution for a homeowner is looking for a home siding that is built specifically to be weatherproof. It is not as energy efficient as stucco, but it is a more durable option.
Vinyl Maintenance
Maintaining this type of siding is a lot easier than people may think. It is relatively cheap to install, and it lasts for many years. The paint on vinyl siding stays on and only requires repainting every few years, making your repainting budget less frequent. Vinyl does not require any kind of power wash or scraping but may need a light spray with the garden hose to clean it off from time to time. Vinyl also comes in many different styles, patterns, and designs, so you can customize it to look how you want, and regardless of what you choose, the maintenance is quick and easy.
Both vinyl and stucco are perfect siding options for your Colorado Springs home. It is important to have siding on your home that helps keep the heat inside, the weather out, and money in your wallet. Depending on what you are looking for, style-wise, stucco, and vinyl are two of your best options.
Replacement Siding Experts | Colorado Window and Door Company
Here at Colorado Window and Door Company, we have an expert design team on staff to help you decide what siding option is right for you. We help you decide on your goals and pick something that represents the style and feel that you are aiming for when renovating the exterior of your home. We only offer the best siding products when it comes to stucco and vinyl, and have options for every need: affordability, energy efficiency, durability, and more. Given our 20+ years in business here in Colorado Springs, we are the #1 trusted source for replacement siding in Southern Colorado. Contact us today for a free design consultation or estimate for siding.