Siding
Homeowners across the nation are discovering that they can save on energy costs when they specify Structure, Quest and Alside's Prodigy® Vinyl Siding instead of ordinary vinyl siding. To calculate your potential energy savings, go to www.ProdigySiding.com and use the online Energy Savings Calculator.
"Quality, Service and Selection from a Company You Can Trust!"
Maintaining the curb appeal of your painted home can be very costly and time consuming over the years.
A decision to invest in vinyl siding provides the immediate benefits such as:
A virtually maintenance free exterior
Superior energy cost savings and energy efficiency
Increased property value
Coordinated trim and Accent Options
Clear-Through Color…never needs sanding, painting or staining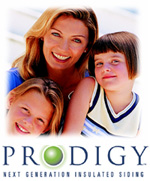 Prodigy® and Structure is designed with an R-Value of 5.0.
That's five times the energy efficiency of ordinary siding.
From its flawless appearance, unsurpassed insulation, maintenance freedom and
Limited Lifetime Warranty (including an industry leading fade warranty), Prodigy is the embodiment of what you value.